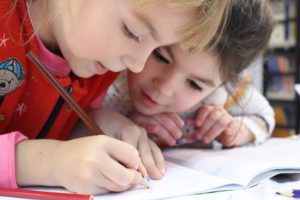 With school back in session, more and more children will be sharing germs and getting sick. Each year, as children go back to school, allergies, asthma and ailments become more common. There are believed to be various factors that play a role in this, such as children being in close proximity, being exposed to new environments (mold, dust, chemicals, etc.) and even the changing of the seasons. At Rose Canyon Health & Wellness, we take a different approach to healthcare, focusing on the cause of issues, not trying to mask them.
Get Bedtimes on Track
Did you know a lack of sleep can directly impact your child's ability to learn, be healthy and even heal? We recommend consistent bedtimes for children that allow them to properly sleep each night. For children that have to get up extremely early, earlier bedtimes may be recommended. Adequate sleep is required for your child to properly learn and stay healthy all year long.
Eat Healthy
When it comes to staying healthy and strong, our diet has a massive impact. Make sure your child is eating lots of healthy vegetables and fruits with each meal. Fruits and vegetables contain the vitamins, nutrients and minerals necessary to stay healthy, improve the immune system and avoid getting sick.
Buy A Rolling Backpack
Although their backpack may not impact them catching a virus, it can certainly have a big impact on their overall health throughout life. Backpacks can often weigh 30+ pounds, putting constant weight and pressure on your child's back. We recommend a rolling backpack which allows you child to safely travel with their books and belongings without potentially damaging the back and spine.
Wash Hands
As mentioned above, germs are easily spreadable when children are in close quarters. Teach your child to properly and frequently wash their hands. Along with washing often, make sure your child keeps their hands away from their eyes, nose and mouth as this can spread germs easily as well.
Schedule Family Care in Mesa, Arizona Today
Want to make sure your child is healthy? Looking for family healthcare in Mesa, Arizona? Rose Canyon Health & Wellness is always accepting new patients and even offers direct primary care for families. Our plans start at $150 per month for a family of 4 and includes as many visits as you need a month without any copays.